Dear Whitney and Liria,
My fiance's very fertile sister is going to have her fifth child in about a month. She asked that we watch all four of her (under the age of 7) kids the night after she gives birth. It is important that I appear very child friendly to his family (as he is one of 9). my question is, what do I feed these little people other than boiled hot dogs or pizza delivery? I want them to report back to their mother and grandmother that I am fabulous.
Not Mary Poppins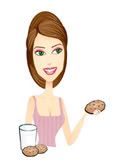 Whitney Says:
Dear Mary,
Remember, just a spoon full of sugar helps the medicine go down. In this case, the medicine is watching four little rug rats while their mom brings forth a fifth. The medicine? Homemade Pizzas! Just buy some ready made dough from the market and portion it off so that each one of the little critters can make their own. If that doesn't prove to everyone what a domestic you are nothing will. Plus the kids will adore you for including them in the grown up process of cooking. For dessert? Try a FROSTY ROOTBEER FLOAT and you will float into the hearts of all!
Remember, Mary Poppins is positively perfect in every way!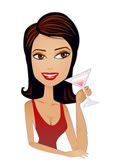 Liria Says:
Dear Not Poppins,
Semi-homemade is the art of illusion and this is one of the most important domestic arts to master. My question for you is how rough ARE your domestic skills? If you CAN pull off diinner, I'd try a simple spaghetti and some homemade cheesy bread. If boiling water, cooking noodles, pouring Ragu (kids love it) and melting cheese is beyond your scope, get kid-friendly Italian take-out the night before and reheat. Nothing fancy.
Two ways to get some BIG extra-credit points if you can pull off some very simple cooking: 1) Chocolate cake for desert. A mix is easy and it's the frosting kids love. 2) Send the leftovers home so the Breeders don't have to worry about dinner the next night.
Kids will never complain about spaghetti leftovers and you'll look like Lady Bountiful to the whole family.
Word will get out that your a keeper!