Dear Whitney and Liria,
I've been dating a married man for the better part of three years and I think he's cheating on me. Our plan has always been that we'll get married as soon as he leaves his wife. But now, I'm worried that he's going to dump me for another woman.
Heartsick in Sarasota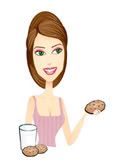 Whitney Says:
Dear Sick,
Hellooooo... McFly?... Is anyone home? Knock...knock...knock... First and foremost, you ARE the other woman; for three years none-the-less. I am clearly not going to vote for your continued relationship here. Mr. Man is already cheating on the woman he vowed to love, honor, and cherish. So chances are he was destined to cheat on you in the same way. The way I see it, you have two options.
1.) Break up with him immediately.
2.) Break up with him immediately and give him a small parting gift. After all, there is nothing like a little botulism to remember you by.
I suggest making him my OOEY GOOEY "Livin Large" LASAGNA with a can of tomotoes that has been left opened in the refrigerator for a month. Once you meet a better man, you can make him the same dish with fresh ingredients. I guarantee that he will hang around to see what you make next.
Vengeance is yours!

P.S. Being that I'm not legally allowed to recommend poisoning someone, please know that if you follow this advice, may it be on your head.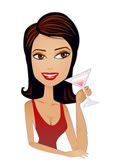 Liria Says:
Dear Sick,
One word, OxyMORON!! He can't be cheating on YOU. That you don't know this explains the liberal use of capitalization above. Brace yourself, Missy, you're already history. My best advice? Get ready for the big heave-ho with practice. Whenever I've been dropped I've softened the blow with two sure-fire remedies, my JUST CAN'T GET ENOUGH OF THESE APPLE MARTINIS and my Chocolate Chip Orgasms. At times like these it's important to remember the good things you can do for yourself.
Once you've moved on, try my "DUMB AS A DOORKNOB AND STILL CAN'T FAIL" MAC N' CHEESE.
Recipes I can help with. Can't do a thing for stupid.