Dear Whitney and Liria,
There is this guy that I like but he only uses me for a booty call. How can I make him see me as girlfriend material?
Not Good Enough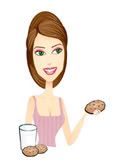 Whitney Says:
Dear Not,
Sweetheart, he only sees you as a booty call because you've apparentley let him. Never ever, ever, ever, ever, ever, EVER let a man use you for sex when you want more. It's just not done. I'm certain this fellow will never ask you out until you close the all-night service station. Remember, if your booty is good enough to call, it's good enough to take out to dinner and meet his parents some day. Should that day ever come, make my FESTIVE FRITTATA!
Remember, you're booty-ful!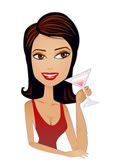 Liria Says:
Dear Not,
You can't! Really. When they come over for dessert, it's nearly impossible to get them to eat their vegetables. In case you want to try, make my SUPER SIMPLE NEVER FAILS GREEN BEAN CASSEROLE. Not only will you learn a thing or two about his relationship to holidays, it's sure to add an element of Betty Crocker to the Mae West impression you've created.
If you're shopping for the long haul, you absolutely CANNOT let yourself fall into the booty call category. Take it from a girl who's got (and gotten) more than her share of tail (J-Lo eat your heart out!). One of the hardest lessons a single girl has to learn is that for men there are so many booties, so little time. If you want yours to stand out, don't offer it with the buffet.
Learn to be hard-to-get and the world is yours!