Dear Whitney and Liria,
My boyfriend and I have two children and have lived together for seven years. My problem is that he still hasn't proposed. How am I ever going to become his wife?
Always the Bridesmaid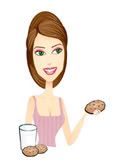 Whitney Says:
Dear Always,
Close down the dairy girfriend!!! Your man has opted not to pay for his milk for too long. It's time to cut him off! Normally, I would say that if he hasn't popped the question inside of two months, you should leave. But sadly, you have done the unthinkable and already procreated with this fiend.
As a last resort, I would check the common law marriage rules in your state and if you find that your seven years of co-habitation have already made you his legal spouse, then hop on down to city hall and change your name. Your next course of action is to stop by Kay Jewelers and buy yourself a ring. Then let everyone know that you and Billy Bob are now man and wife. In fact send out announcements and see if you can snag some wedding gifts while you're at it.
Before resorting to the common law approach, I would make your man a batch of my MAPLE SYRUP MUFFINS. He might just drop down on his knees and propose right there at the breakfast table.
Keep your knees together and good luck!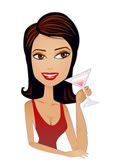 Liria Says:
Dear Always,
Close the dairy? Whitney, that farm is all she's got. You've got to be practical here. Our girl forgot the cardinal rule of dating when she became a breeder... twice. While I do hate to rain on anybody's parade, I've got bad news. One little darling and you might have been able to pull it off. Two, and it's just way too late for you.
The good news? You can make him a batch of anything you want and enjoy it! If you're still hell-bent on matrimony, my poor little poster child for don't-let-this-happen-to-you, I have a plan. Surprise him by making his favortite meal and then ply him with the whole liquor cabinet (may I suggest making him a pitcher of our "IT'S A VERY LONG ISLAND" ICED TEA. In a pinch, who says you can't throw your own shotgun wedding?
Ready, Aim, Fire!